Denis Boulay
Denis Boulay
Advisor Categories
I have 22 years of service with Revenue Canada (C.R.A.) working as an Auditor, Appeals Officer and Team Leader in the Auditing Division. My principal focus over the last twelve years has been auditing SR & ED claims for small, medium and large companies. My experience in this area has been extensive – I have also been involved as a speaker for public seminars on SR & ED while working for CRA. I am also bilingual (English/French).
Preparing and Filing Scientific Research & Experimental Development claims require very specialized knowledge.
I can put my know how-to-work for you …
Is your company involved in Scientific Research and/or Experimental Development?
Are you interested in knowing if your business qualifies for an Investment Tax Credit?
Do you want to obtain the maximum ITC credit that your company is entitled to receive?
Do you need assistance with the filing of your SR & ED claim?
Do you want the security of having your SR & ED claim prepared by a knowledgeable and experienced consultant?
If you have answered yes to any of these questions then I can help you.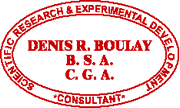 www.DenisBoulay.ca
D.R. Boulay & Associates Ltd.
1692 Fairfield Crescent, Pickering, ON L1V 6H8
Telephone: 905.427.4205 Fax: 905.427.3495
www.ResearchTaxCredits.ca
We offer a wide range of services including the following:
Advise on R&D claim eligibility;
Consultation on how to maximize your investment tax credit;
Educate and coach your staff to understand the benefits of R&D claims and maintain proper R&D documentation;
Preparation of R&D Science Reports via a team of professionals;
Preparation of R&D financial documents;
Assist our clients during the government technical and financial R&D audit;
Additional various R&D claim services as required.
Our Fees:
We believe that your benefit is our primary concern. We charge a pre-negotiated percentage of the actual investment tax credit earned in the financial year , which is approved by the government.
Our service quality and fee is among the most competitive in the industry.
How does the Program work?
What is SR&ED?
What type of work or research is eligible as R&D?
What are the ways that R&D can be performed?
In which Field of Science and Technology can R&D be performed?
What are the Fields or Areas not included in the an SR&ED Program?
What Criteria will help identify the presence of R&D work in a project?
In an SR&ED Project, what is Advancement?
In an SR&Ed Project, how do we identify Uncertainty?
In an SR&ED Claim, how do we Project or Identify Content?
What Supporting Documentation and/or Evidence is acceptable to support an R&D project claim?
What is Ontario Innovation Tax Credit (OITC)?
Contact Denis Boulay